Supporting historical research
Research partnership with Yad Vashem
In 2012, SNCF signed an agreement to contribute to the French section of "Transports to Extinction: Holocaust (Shoah) Deportation Database," a wide-ranging study into the deportation of Jews during the Holocaust led by Yad Vashem, Israel's Holocaust museum and memorial in Jerusalem. Through our support, we're assisting researchers in more fully documenting the mass transports of 75,721 Jews from France, most bound for the concentration camp at Auschwitz. The research builds on the work done by Serge Klarsfeld, co-author of Mémorial de la déportation des Juifs de France (Memorial of the Deportation of Jews from France). Survivors' testimonies, private documents, and photographs shed light on the deportees' experience.
Also, in 2012, we presented a scanned copy of our Second World War archives to Yad Vashem, where they were analyzed in detail to explore the processes involved in the deportations..
Learn more on the Yad Vashem website
The endowment of a university chair on genocides
In 2011, SNCF signed a partnership agreement with IEP, the political science institute of Bordeaux, for a three-year endowment of France's first university chair on "The Holocaust and Other Genocides" in the name of Joseph Benzacar.
In 1921, Benzacar founded the Institute of Social and Economic Documentation and Studies, the forerunner of IEP. In 1944, at the age of 82, he was deported with his wife and was murdered at Auschwitz.

We continue to support the Joseph Benzacar Chair through our partner organization, the Shoah Memorial in Paris. Alban Perrin, the training coordinator at the Memorial, teaches Comparative History of 20th Century Genocides at the institute. During the 2011/2012 academic year, 130 out of 250 third-year students at IEP signed up for this elective course.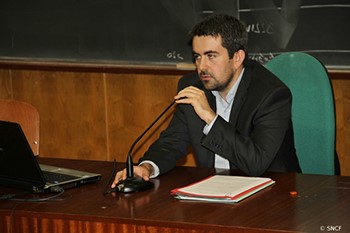 Partnership with France's National Resistance Museum
The National Resistance Museum (MRN) hosts an exciting collection of exhibits dedicated to the French Resistance and the Second World War, including documents, objects, photographs, and underground journals. It was founded in 1965 by former fighters as a way to preserve the memory of the movement and its values. As well as the main site in Champigny-sur-Marne near Paris, the museum has satellites throughout France, each addressing the same theme but with a particular emphasis. The Nice and Montluçon sites focus on local Resistance efforts (on the Côte d'Azur and in central France respectively), the Varenne-Vauzelles and Givors satellites cover rail workers and the Resistance, the Châteaubriant museum is dedicated to the Resistance in internment camps, and the collection at Bourges revolves around the demarcation line.
Through our partnership, we're supporting the MRN's work and helping the museum make the most of its collection of unseen photographs.
Learn more on the MRN website (in French)